Regular price
Sale price
$24.95 USD
Unit price
per
Sale
Sold out
IMPORTANT PRODUCT LINKS
INGREDIENTS:
Oils: Honey, Glycerin, Coconut Oil, Borage, Jojoba, Spearmint, Carrot Seed, Vitamins C & E, Peppermint, Cedarwood, Lavender, Eucalyptus, Buchu, Tea Tree, Frankincense & Squalene.
Note: The shampoo will remain on your horse's skin for quite some time, so you should consider the quality of the shampoo you use.

Product Description:
Introducing our premium Horse Shampoo - the perfect solution to achieve healthy, shiny and lustrous hair for your beloved horse. Our natural formula is packed with high-quality ingredients to promote hair growth, prevent split ends and improve hair thickness. 
Our Horse Shampoo is specially designed to clean your horse's skin while maintaining the right moisture balance without stripping away natural oils. We understand the importance of maintaining your horse's skin health, so we have carefully formulated our shampoo with natural oils like coconut, jojoba, and squalene, which work together to nourish and moisturize your skin horse's coat.
Not only does our Horse Shampoo clean and moisturize your horse's coat, but it also contains ingredients like honey, glycerin, vitamins C & E, and essential oils like cedarwood and eucalyptus, which help to promote a healthy and shiny appearance.
If you have a white horse, our Horse Shampoo is the perfect solution to keep your coat looking bright and clean. Our shampoo is specially formulated to prevent yellowing and discolouration, leaving your horse's coat looking its best.
Our Horse Shampoo also comes with a conditioner to provide maximum benefits to your horse's hair. The conditioner helps to improve hair manageability, making it easier to comb through and preventing tangles.
We take pride in using only natural and high-quality ingredients at Graceful Touch Products. Our Horse Shampoo and Conditioner are no exception. With our natural formula, you can rest assured that your horse's coat is getting the best care possible.
Ingredients

Butter: Cocoa, Shea and Mango.

Oils: Camellia, Argan, Jojoba, Coconut, Almond, Eucalyptus, Lavender, Orange, Rosemary, Squalene, Carrot Seed, Spearmint, Bergamot, Peppermint, Vitamin E, Lemon, Black Pepper, Cedarwood, Grapefruit, Grape Seed, Vitamin C, Cinnamon, Apricot, Borage, Clove, Fennel, Frankincense, Amyris & Ginger.
Care Instructions

You apply the products by gently rubbing it into the body area you are focusing on.  For example, the FACE SERUM would be applied to your face two or three times daily while UTI B GONE would be applied to the urinary track area. 


HOT TIP:  Also apply to the bottom of your feet for best results.
View full details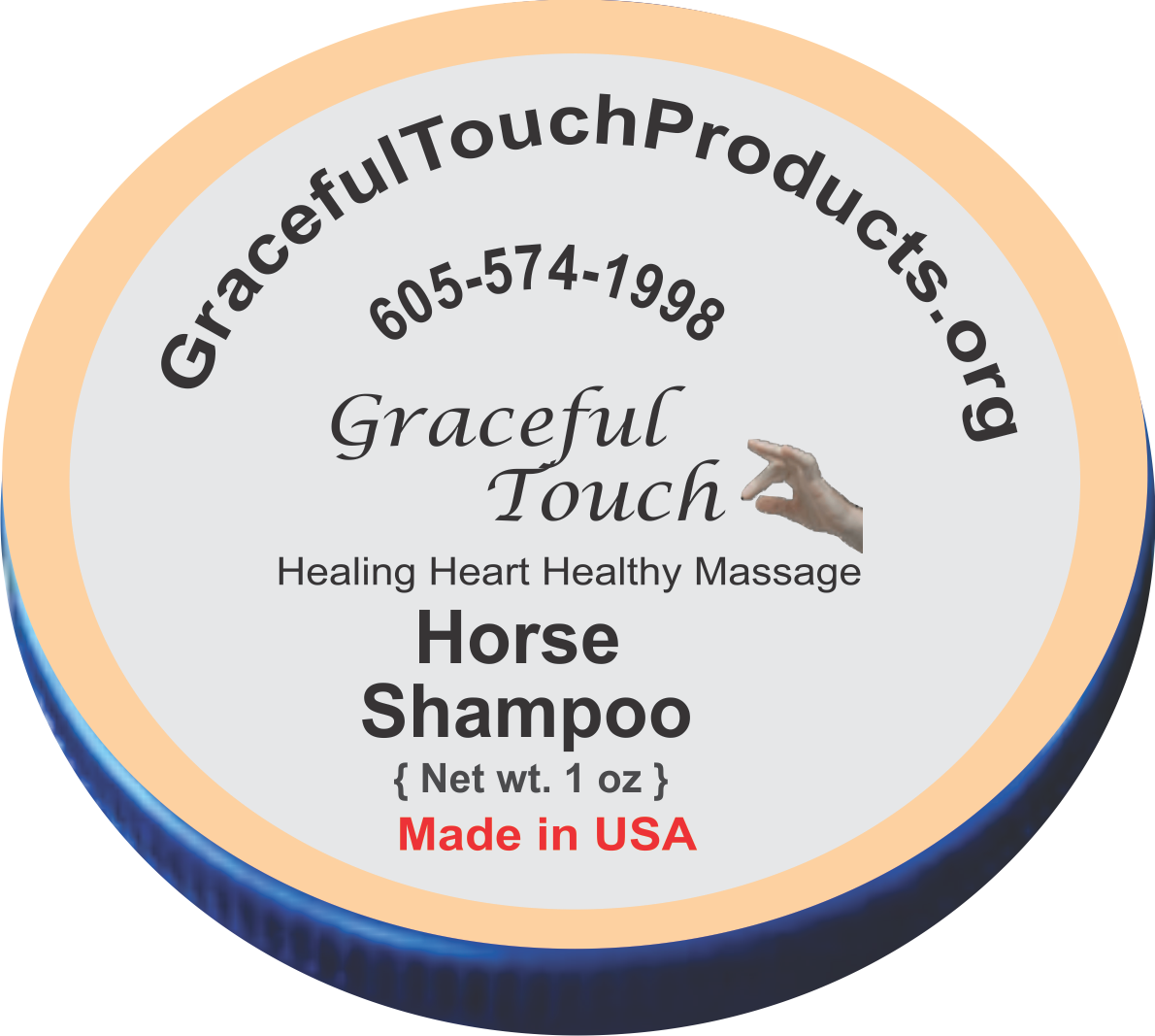 What our Costumers think about Pain B Gone